RTU5015 Gsm gate opener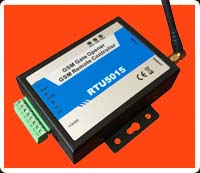 The GSM Gate Opener RTU5015 is a very simple device which can be used for authorized door access, controlling gates, switching of remote equipments, car parking systems. Actually the GSM Gate Opener RTU5015 can be used in places which require to turn ON/OFF your system, machines, equipments remotely with a FREE call from your mobile phone.
Just dial from Authorized User number then the Barrier and doors are opened, or the machine are turn on or off by the GSM Gate Opener. There are no call costs, the GSM Gate Opener rejects the call from authorized number then carries out the turn ON/OFF action.
01
Description.
GSM Gate, Barrier, Shutter, Garage Door, Door Opener, Door access, Controlling gates, Car parking systems.
02
GSM remote controller for industrial projects.
For water pump,water tank,motor remote control,solar power remote monitor.
03

GSM alarm system for home or industrial security alarm.


For home or industrial projects alarm,burgur alarm,battery operated gsm alarm box.
04

GSM customized design for customer's requirement.


We can design GSM,GPRS,cdma,3g or 4g products for our customers.