Very important about the RTU5024 board and service
Our company's series of RTU5024 all use high-quality M35 GSM modules, which have been stable and mature applications for more than 10 years. There are many GSM controllers on the network market, also called RTU5024, but they are not produced by our company.Please pay attention to identification and consult your sales for specific technical support and after-sales service.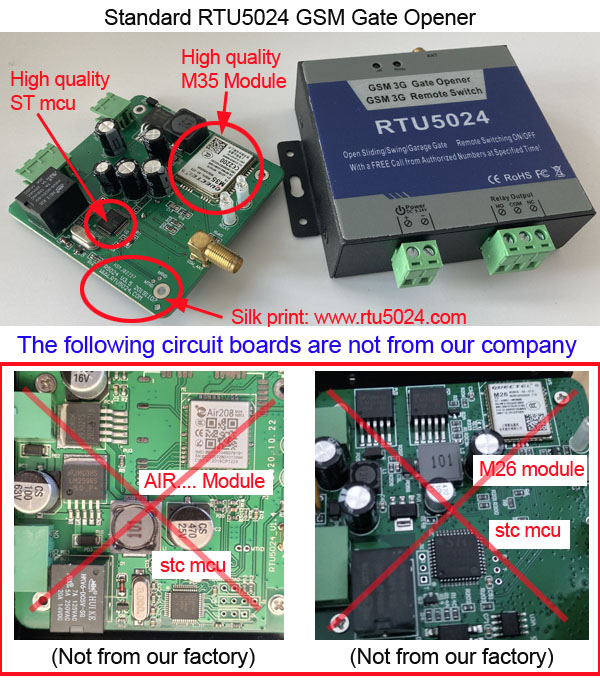 Во всех сериях RTU5024 нашей компании используются высококачественные GSM-модули M35, которые являются стабильными и зрелыми приложениями уже более 10 лет. На сетевом рынке представлено множество контроллеров GSM, также называемых RTU5024, но они не производятся нашей компанией. Обратите внимание на идентификацию и проконсультируйтесь с вашими продавцами для получения конкретной технической поддержки и послепродажного обслуживания.
La serie RTU5024 de nuestra empresa utiliza módulos GSM M35 de alta calidad, que han sido aplicaciones estables y maduras durante más de 10 años. Hay muchos controladores GSM en el mercado de redes, también llamados RTU5024, pero no son producidos por nuestra empresa. Preste atención a la identificación y consulte a su vendedor para obtener soporte técnico específico y servicio postventa.
La série RTU5024 de notre société utilise tous des modules GSM M35 de haute qualité, qui sont des applications stables et matures depuis plus de 10 ans. Il existe de nombreux contrôleurs GSM sur le marché des réseaux, également appelés RTU5024, mais ils ne sont pas produits par notre société. Veuillez faire attention à l'identification et consulter votre commercial pour un support technique et un service après-vente spécifiques.
Die RTU5024-Serie unseres Unternehmens verwendet alle hochwertige M35 GSM-Module, die seit mehr als 10 Jahren stabile und ausgereifte Anwendungen sind. Es gibt viele GSM-Controller auf dem Netzwerkmarkt, auch RTU5024 genannt, die jedoch nicht von unserem Unternehmen hergestellt werden. Bitte achten Sie auf die Identifizierung und wenden Sie sich an Ihren Vertrieb, um spezifische technische Unterstützung und Kundendienst zu erhalten.
Tutte le serie RTU5024 della nostra azienda utilizzano moduli GSM M35 di alta qualità, che sono state applicazioni stabili e mature da oltre 10 anni. Sul mercato della rete sono presenti molti controller GSM, detti anche RTU5024, ma non sono prodotti dalla nostra azienda. Prestare attenzione all'identificazione e consultare il proprio punto vendita per un supporto tecnico specifico e un servizio post-vendita.
New Arrival GSM products provides you with more options
GSM Audio intercom products series, Press the button ,audio talking, remote gate or door lock release


Multi Channel relay output remote controller / GSM,3G and 4G controller

RTU5024 family products from Verion 2006 to 2019
From 2019 version, we have built-in the rechargeable battery for power failure alert and one alarm input


(RTU5015 is our basic line gsm controller,you maybe have more interested in our all GSM controllers,If you have any new idea,we can provide the customized design to realize your ideas even without any design cost.

(GSM alarm serial products GA09, GL09,GA01P and GABP are smart designed gsm alarm unit and very popular for industrial controller box.It is easy to add GSM alarm function to the traditional industrial control box. Different products in the series have different characteristics. It can be preset to alarm with the call or SMS.
New Technologies
RTU5015 and RTU5024 ,both are smart and good designed GSM Phone call Switch Remote Control Door and gate Opener.
These GSM gate opener can be used for authorized gate access, gate control, remote equipment control, parking systems or other places that require remote activation of your system, machines or equipment. For a FREE call from your mobile phone, it is a great tool to protect your assets. With the new version designed,also has the rechargeable battery inside for power failure alert. and also have the alarm input port for security sensor to connect.
RTU5015 и RTU5024, оба являются умными и хорошо спроектированными GSM переключателями телефонных звонков с дистанционным управлением дверью и открывателем ворот.
Это устройство для открывания ворот GSM может использоваться для авторизованного доступа к воротам, управления воротами, дистанционного управления оборудованием, парковочных систем или других мест, где требуется удаленная активация вашей системы, машин или оборудования. БЕСПЛАТНЫЙ звонок с мобильного телефона - отличный инструмент для защиты ваших активов. В новой версии также есть перезаряжаемая батарея внутри для предупреждения о сбое питания. а также имеет порт входа сигнала тревоги для подключения датчика безопасности.
RTU5015 und RTU5024 sind beide intelligente und gut gestaltete GSM-Telefonanrufschalter. Fernbedienung Tür- und Toröffner.
Diese GSM-Toröffner können für autorisierten Torzugang, Torsteuerung, Fernsteuerung von Geräten, Parksystemen oder anderen Orten verwendet werden, an denen eine Fernaktivierung Ihres Systems, Ihrer Maschinen oder Geräte erforderlich ist. Für einen KOSTENLOSEN Anruf von Ihrem Mobiltelefon aus ist dies ein hervorragendes Tool zum Schutz Ihrer Vermögenswerte. Mit der neuen Version wurde auch der Akku für einen Stromausfallalarm entwickelt. Außerdem muss der Alarmeingang für den Sicherheitssensor angeschlossen werden.
RTU5015 et RTU5024, tous deux sont intelligents et bien conçus, interrupteur d'appel téléphonique GSM, télécommande, ouvre-porte et ouvre-porte.
Ces ouvre-portails GSM peuvent être utilisés pour l'accès de portail autorisé, le contrôle de portail, le contrôle à distance de l'équipement, les systèmes de stationnement ou d'autres endroits qui nécessitent une activation à distance de votre système, machines ou équipement. Pour un appel GRATUIT depuis votre téléphone mobile, c'est un excellent outil pour protéger vos actifs. Avec la nouvelle version conçue, a également la batterie rechargeable à l'intérieur pour l'alerte de panne de courant. et ont également le port d'entrée d'alarme pour que le capteur de sécurité se connecte.
RTU5015 y RTU5024, ambos son inteligentes y de buen diseño GSM Interruptor de llamada telefónica Control remoto Puerta y abridor de puerta.
Este abridor de puerta GSM se puede utilizar para acceso autorizado de puerta, control de puerta, control de equipo remoto, sistemas de estacionamiento u otros lugares que requieran activación remota de su sistema, máquinas o equipos. Para una llamada GRATUITA desde su teléfono móvil, es una gran herramienta para proteger sus activos. Con la nueva versión diseñada, también tiene la batería recargable en su interior para alerta de falla de energía. y también tiene el puerto de entrada de alarma para conectar el sensor de seguridad.
RTU5015 e RTU5024, entrambi sono intelligenti e di buon design Interruttore di chiamata telefonica GSM Telecomando Porta e apri cancello.
Questi apri del cancello GSM possono essere utilizzati per l'accesso autorizzato al cancello, il controllo del cancello, il controllo delle apparecchiature remote, i sistemi di parcheggio o altri luoghi che richiedono l'attivazione remota del sistema, delle macchine o delle apparecchiature. Per una chiamata GRATUITA dal tuo telefono cellulare, è un ottimo strumento per proteggere le tue risorse. Con la nuova versione progettata, ha anche la batteria ricaricabile all'interno per l'allarme di mancanza di corrente. e hanno anche la porta di ingresso dell'allarme per il collegamento del sensore di sicurezza.
All RTU5015 Version will start to support the new functions:
Customized SMS command to ON ,OFF, or temporary On or Off the relay output !
Intelligent search function of storage number !
From 2020 The maximum working voltage of all series of RTU5024 has been increased to DC40V
Максимальное рабочее напряжение всех серий RTU5024 увеличено до 40 В постоянного тока.
Die maximale Betriebsspannung für die gesamte RTU5024-Serie wurde auf 40 VDC erhöht.
La tension de fonctionnement maximale pour l'ensemble de la série RTU5024 a été augmentée à 40 VDC
La tensión de funcionamiento máxima para toda la serie RTU5024 se ha aumentado a 40 V CC.
La tensione massima di esercizio per l'intera serie RTU5024 è stata aumentata a 40 VDC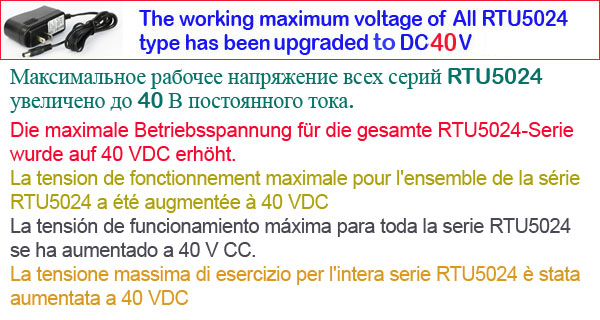 a
Huobei is one of the Leading GSM controller design company:
Huobei design the series GSM controllers,gsm alarm box and the GSM intercom products.
We design 2G/3G/4G products
b
Huobei manufacture,sales and service the products:
Huobei build the factory for manufacturing since 2003 for all the world market.
The most cost-effective product